Ingredients:
1 USDA Prime Tri-Tip
Head Country Apple Habanero
Butter
Brown Sugar
White Bulls BBQ Rack City
Fuel:
Cherrywood/Cherry Pellets
Prep:
Trim Your Tri-Tip to Desired Shape/Size, We Recommend Trimming Until Thin layers Of Membrane are no longer Present. Try to leave a Little "Fat Cap" Season Liberally With White Bulls BBQ Rack City 6 -24 Hours Before Cooking. That Will lock in the Peppery and Garlicy Sweetness! We Strongly suggest Seasoning 12 or more Hours Before Cooking, And Wrapping it in Foil and Placing in the Fridge Overnight for the Perfect Dry Brine to Lock in the Flavors.
Cooking Method:
Place Your Tri-Tip On your Pit/Smoker at 225F. Start Spritzing Once an Hour (Water) and Roll Until 165F Internal Temperature. At 165F Cube Up The Tri Tip Against The grain for your Soon to Be Burnt Ends. Approx. an Inch. Place Pads of Butter, Head Country Apple Habanero , Brown Sugar and a Dash Of Rack City In a Pan With The Cubed Tri Tip and Mix. Place back On The Smoker at 275F. Cook Until The Cubes Temp at 205F
The Rest/Slicing:
Rest Your Burnt Ends at Least 15 Minutes And ENJOY!
Shop Rack City And Follow Along Step By Step With Chris On The Youtube Recipe Video Below: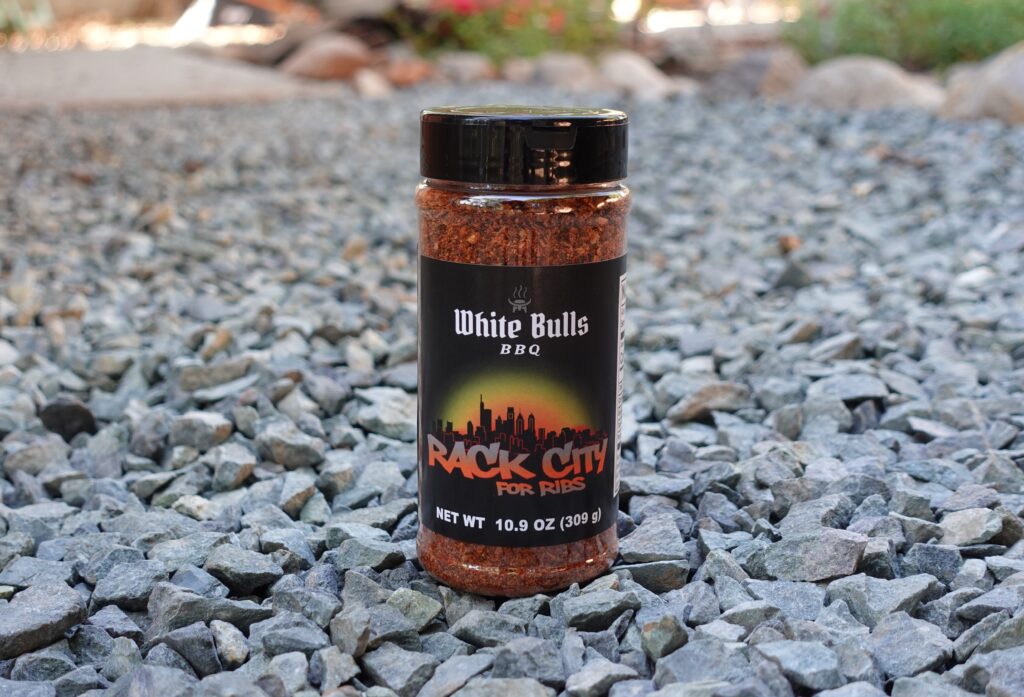 Rack City for Ribs 10.9 oz.
Welcome to Rack City, where flavor is the law and you are the mayor. The OG Rib Rub! Is it Good on Ribs? Yessir. Beef? Yup. Pork Chops? Mmmhm. Baby Backs? Of course. Potatoes?! You Bet. Sky is the Limit in Rack City!
Flavor Profile: SPG Forward With a Nice Smoked Paprika Touch and a just the Right Amount of Light Brown Sugar!
Includes:
(1) Rack City for Ribs 10.9oz
Note: Orders containing our Signature Rubs AND items from our Merchandise store will arrive in two separate packages! Crafting our rubs in small batches separate from our merchandise warehouse is just one way we ensure the quality we value at White Bulls.