Ingredients:
1 USDA Choice/Prime Brisket Packer [10-13 Lb]
Wet Brine: Water, Kosher Salt, Prague Salt, 1 Onion, 8 Garlic Cloves [Amount Breakdowns In Prep]
Pastrami Rub: White Bulls BBQ Thee Rub, Peppercorn, Coriander Seed, Mustard Seed, Brown Sugar, Ginger [Amount Breakdown in Prep]
Fuel:
Cherrywood/Cherry Pellets
Prep:
Trim Your Brisket packer to Desired Shape/Size, We Recommend Trimming Until Thin layers Of Membrane are no longer Present. Bulky Fats Must Go. Definitely Try to leave a Little Fat Cap, About a 1/4 Inch Thick. Season Liberally With This Special Rub 6 -24 Hours Before Cooking.
Rub Breakdown:
1/4 Cup White Bulls BBQ Thee Rub
1/2 Cup Butcher style Cut Peppercorn
1/2 Cup Coriander Seed
2 TBSP Mustard Seed
1 TBSP Brown Sugar
1 TSP Ginger
That Will lock in the Flavors! We Strongly suggest Seasoning 12 or more Hours Before Cooking, And Wrapping it in Foil and Placing in the Fridge Overnight for the Perfect Dry Brine to Lock in the Flavors.
Cooking Method:
Start Your Brisket at 210F The First 5 Hours. Spritz Every Hour with Water. Next At the 5 Hour Mark, Crank Your Smoker to 250F For The Remainder of The Cook. Wrap At 185F In Foil Until Probing Around roughly 205F Internal temp.
The Rest/Slicing:
Tent Your Pastrami 10 Minutes (Open Foil) to release The Steam And Start The Rest.
Rest Your Pastrami Brisket at Least 2 Hours, Slice Against the grains And ENJOY!
Shop Our Thee Rub And Follow Along Step By Step With Chris On The Youtube Recipe Video Below: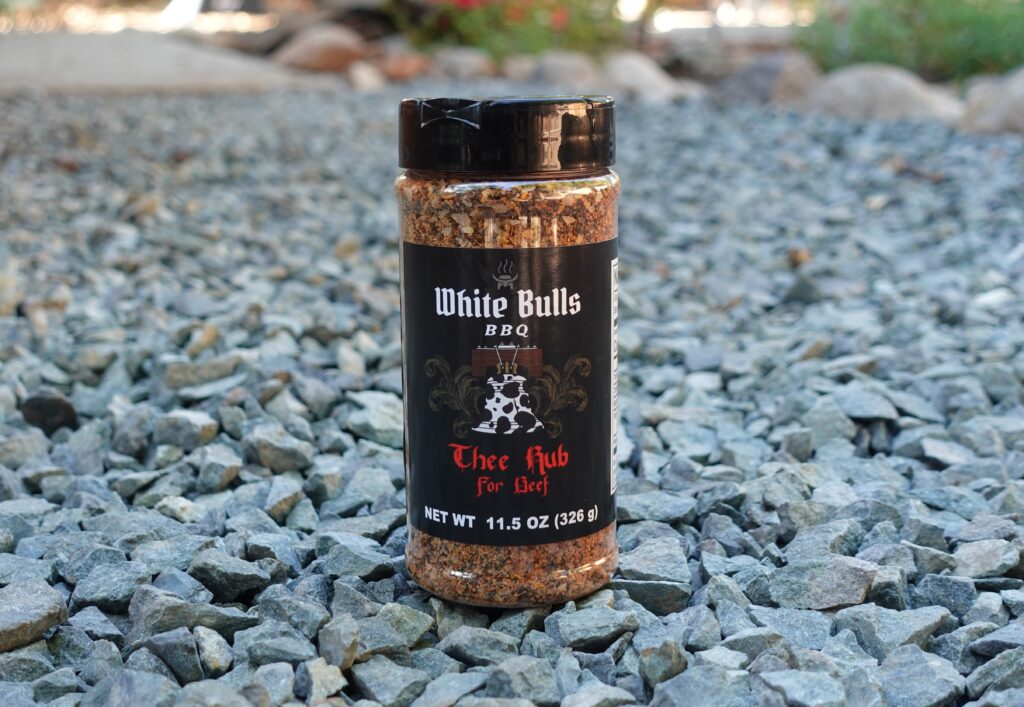 Thee Rub for Beef 11.5 oz.
Our signature All Purpose rub, Mainly Crafted With Beef in Mind. Brisket, Burgers, Meatballs… you name it. Let your imagination run wild and enjoy the outcome of years of experimentation and fine tuning. This is The White Bulls BBQ rub for people who like a little kick! Texas spice, Philly attitude.
Flavor Profile: A Strong SPG Forward Flavor With a Kiss of Texas Twang Heat on The Back End!
Includes:
(1) Thee Rub for Beef 11.5oz
Note: Orders containing our Signature Rubs AND items from our Merchandise store will arrive in two separate packages! Crafting our rubs in small batches separate from our merchandise warehouse is just one way we ensure the quality we value at White Bulls.